I love bread. Out of all the fun stuff that I've made so far, bread has to be my favorite by far. I especially like dark breads that you can pull apart. They are just a lot of fun to eat. Out of all the breads, my favorite has to be focaccia. I've been known to pick restaurants by how well they make their focaccia bread.
I have amazing friends. They're not vegan (we can't all be perfect 😉 ) but they have been very supportive of my new lifestyle. Most people aren't ready to forgo animal products altogether. My wonderful friends suggested that we have a vegan meal together.
It was their idea. Sure, I'm 100% in. For them it's making vegan food. For me it's just making food. I made my lasagna and to go with it, focaccia. How much fun is that?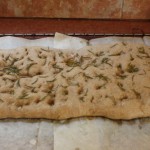 Yield: 12
Prep Time: 20 minutes
Cook Time: 20 minutes
Print
Focaccia
This is a wonderful, savory bread.
Ingredients
Instructions
Activate the yeast in the water.
Add flour, salt and olive oil.
Knead together, adding extra flour as necessary.
Let sit in a greased bowl 1 hour.
Spread dough out on a cookie sheet or baking paper.
Make dimples in dough with your fingers.
Drizzle on olive oil, and sprinkle on salt and rosemary.
Bake 20 minutes at 400 degrees.
Eat.
Allergens
Allergens
You don't roll out the dough. You mush it around with your fingers so that it covers the pan. You can put what ever you like on your focaccia before you bake it, try some garlic, sun dried tomatoes or onions to give it a different flavor.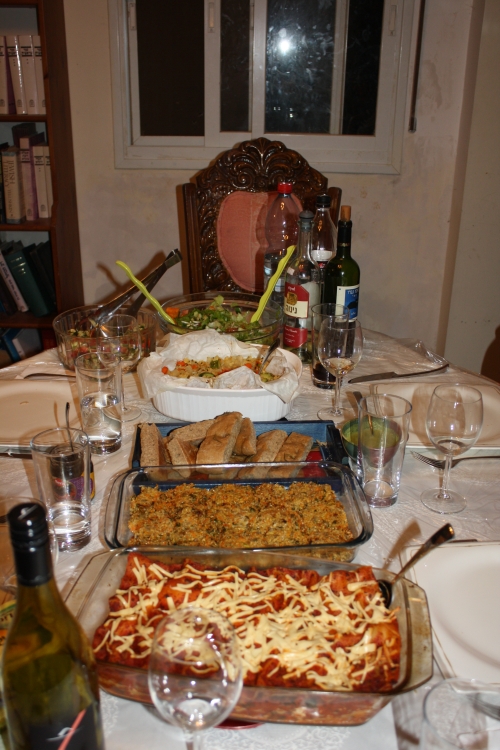 To my friends: Thank you so much for a really fun and yummy evening. I really appreciate you guys going out of your way to do something like this for me. Any time you want to do it again, let me know. I'm ready. 🙂
Add to Favourites