Not everything that I make comes out great. I was in a rush to throw together a yellow cake for my daughter's birthday. It was going really well. I saved a bunch of time by not measuring anything and just throwing it all into mixer. It went into the oven and rose as I baked it.
All good, right? Well it all went sour when I tried to take it out of the pans. The cake tasted great, but it came out in sections. What's a girl to do with broken cake? Make trifle.
Trifle is ridiculously easy to make once you have a cake. All you have to do is put it together. Here are the ingredients: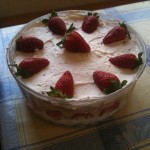 Strawberry Trifle
Assuming that you have a yellow cake, this is a crazy easy recipe. If you don't have one, just make your own. Here's a link to my yellow cake recipe.
Ingredients
Instructions
Layer the bottom of a trifle dish (or in my case, a glass bowl) with 1/2 of the cake.
Add a layer of whipped cream, then strawberries and then pudding.
Place strawberries against the edge of the dish.
Add the rest of the cake, then strawberries, pudding and whipped cream.
Decorate with strawberries on top.
Allergens
Allergens
As far as pudding is concerned, you can either buy ready made or get instant. At least in Israel, the regular Osem pudding mix is dairy free. I keep it in the house for when I want to make vegan cheese cake. I haven't made that in a while. Maybe next week. Instead of regular milk, just use soy milk.
It just goes to show that you really shouldn't rush through things if you want them to come out right. All the time that I saved on making the cake the right way, I spent on putting together the trifle.
The kids were thrilled that I made the mistake. They love trifle a lot more than cake. Who can blame them?
Add to Favourites