After all the build up, Passover is over. I always say that Passover should be for 2 weeks every other year. All the work that goes into it, it just doesn't make sense that it's over so quickly.
Now that it's over, there's no reason not to eat as much chametz as possible. The first thing that I wanted after the chag was bagels. I didn't have flour in the house at the time, so I asked my husband to bring some from Jerusalem on his way home from work the next day. Big mistake. Mine are so much better. I know that I am totally unbiased. 😉
I love bread. There's nothing better than a good hunk of bread either drizzled with a bit of olive oil or some whipped margarine. It's much better than that unleavened stuff that we ate last week.
Cinnamon raisin bread has always had a very special place in my heart. It's one of those things that reminds me of my childhood. Just the smell of cinnamon raisin toast makes me smile.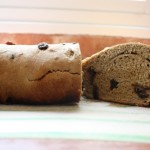 Prep Time: 1h 30 min
Cook Time: 30 minutes
Print
Cinnamon Raisin Bread
This smell so amazing while it's cooking.
Ingredients
Instructions
Activate yeast in water and honey.
Add milk, cinnamon, salt, vanilla and half of the margarine and flour and knead on floured surface for 5 minutes.
The dough should be slightly sticky. Add flour as needed.
Knead in raisins and walnuts.
Set aside and let rise until double the size (about 1 hour).
Roll out dough on floured surface so that it's about 1/2 1  inch think.
Brush with remaining margarine and sprinkle with brown sugar.
Roll dough so that it fits in a loaf pan. Place in the pan with the seam down.
Let rise 45 minutes.
Bake at 400 degrees for 30 minutes.
Let cool on wire rack before slicing.
Eat.
Allergens
My kids aren't so into walnuts, but I sneak them in anyway. The truth is that if I could get away with it, I'd up the walnuts to 1/2 cup. I think that this is a good compromise. I keep them nice and big so that they are able to pick them out without too much fuss.
Rolling out the dough and brushing it with margarine and brown sugar is what gives that bread that pretty swirl that reminds me of the Pepperidge Farm stuff we used to buy in the store. Even if you don't really like cinnamon raisin bread, it's almost worth making this for the smell that permeates the house as it bakes. So yum.
Add to Favourites