I was never a girl scout. When I was girl, I had a friend who was in the Brownies. I always thought that they were so cool. I was able to join them (I was going to say tag along, but I though that might be too corny) on a few of their trips even though I wasn't a member. It was a lot of fun. It was also a lot of fun when cookie season came around. My family was a very good customer. My favorites were Samoas, Thin Mints, and of course, Tagalongs.
An adult friend of mine, who actually was a girl scout, found a recipe online for Tagalong cookies and shared it with me. When she made them, she made them vegan and shared some cookies with me. They were so yummy, I had to try to make them myself.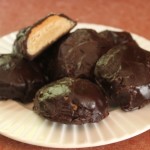 Prep Time: 30 minutes
Cook Time: 13 minutes
Print
Vegan Girl Scout Cookies: Tagalongs
I don't make these often, but when I do, they are gone really quickly.
Ingredients
Instructions
Cream together margarine and sugar.
Add the rest of the cookie ingredients and mix well.
Roll 1 inch balls of dough and flatten to 1/4 inch thick cookies.
Bake at 350 degrees for 11 - 13 minutes.
Allow to cool on a rack.
Mix together all the ingredients for the filling.
Place a heaping teaspoonful of filling on each cookie and smooth down.
Melt chocolate chips and soy milk in a double boiler and dunk each cookie into the chocolate.
Let cool on parchment paper until hardened.
Allergens
When you are coating the cookies, drop them in the chocolate cookie bottom down and then cover them on top and remove them carefully from the chocolate. If you don't, the peanut butter mixture slides right off. I had to learn the hard way.
I use all natural peanut butter which is a bit thinner than Skippy. If you find that the filling seems a bit stiff, you can heat up the mixture until it's smooth. After you place it on the cookies, make sure to let it cool all the way before you dunk them into the melted chocolate.
Since the peanut butter that I used had no added sugar, 3/4 cups powdered sugar seemed to work well. If you are using stuff that already has sugar, you may want to decrease the amount of powdered sugar that you use in the filling.
These came out so good, I think that I'm going to have to try a few more types of girl scout cookies. I really miss Samoas. What is your favorite girl scout cookie?
Add to Favourites