A lot of people have been asking me how I've been surviving Passover. Without meat and eggs and fish and milk (and bread and pasta and beans and tofu), I must be starving. Not true. I've been eating very well, thank you. The Passover staples are still all there: matzo balls, matzo brei, tzimmes, and matzo kugels are all possible, sans  all those animal products. My sweet tooth has been kept in tack as well. There's the apple cake, chocolate tort and now almond cookies.
When I made these cookies I thought they were really good. What really surprised me was when my non-vegan friend had one and said that they don't taste like passover cookies. I think that is the biggest compliment that any Passover food could get. The fact that it's vegan just puts it over the top.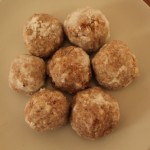 Prep Time: 10 minutes
Cook Time: 20 minutes
Print
Passover Almond Cookies
These do not taste like passover cookies.
Ingredients
Instructions
Combine margarine, sugar, vanilla, almond extract, cinnamon, and salt.
Add matzo meal and mixed well.
Stir in ground almonds.
Shape into teaspoon size balls of dough.
Roll into powdered sugar and place on greased baking sheet.
Bake at 350 degrees for 20 minutes.
Allergens
I know that these cookies use a lot of margarine. In general I try to avoid making margarine based foods. Since Passover is only one week a year, I figure how much damage could it do?
Tonight starts the last day of Passover. I have to say that it's been a great holiday that I've been able to share with friends and family. I wouldn't mind it going on another week. I'm certain that I wouldn't go hungry.
Chag Sameach!
Add to Favourites