I know, I know, that was mean of me. How can you post a recipe about Chili and not include cornbread? It should be outlawed. It's like those annoying end of season episodes on TV that leave you in a cliff hanger. At least I'm not as bad as them – I only left you hanging a few days.
I'm sure that there are people out there that might not think that you need to make cornbread with chili. The next thing that they are going to say is that you don't need rice or sour cream (tofuti makes a really yummy one) either. We don't talk to those kinds of people. Actually, my mama taught me better than that – we do talk to them, we just don't understand them. I never make make chili without cornbread.
Enough of my banter. Here's the recipe: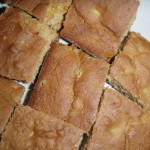 Prep Time: 10 minutes
Cook Time: 40 minutes
Print
Cornbread
Cornbread is a Texas tradition. I may live in Israel now, but I'll always be a Texan.
Ingredients
Instructions
Mix everything except the corn in a bowl.
Add the corn and mix until evenly distributed.
Pour in a greased baking dish and bake at 375 degrees for 40 minutes or until it starts browning on the top.
Serve warm.
When I make chili, I get a big can of corn and split the corn between the chili and the cornbread. A lot of recipes don't put pieces of corn in their batter, but I always do. It's like you get a little surprise while you're eating when you bite into a kernel. It's just fun.
This cornbread is a bit sweeter than most of the recipes that are out there. I use 1/3 cup sugar; many recipes call for just a few tablespoons. I think the sugar adds a lot to the flavor. I've tried with less, but my family doesn't like it. If this cornbread is an ingredient of something else, like cornbread stuffing, feel free to lower the amount of sugar to 4 tablespoons.
Cornbread and chili. Is there anything better in this world? I think that it might even beat chocolate as the best food in the world. Yum!
Add to Favourites