I'm from Texas. Originally I was born in New York, but I moved to Texas when I was 10 years old. You know what they say, once a Texan, always a Texan.
One to the best thing about being a Texan is Chili. Chili is the food of the Gods. Just thinking about it makes my mouth water. Depending on my mood, I use different types of beans. I think that you have to use kidney beans by law, but there's no reason not to play around with anything else you put in.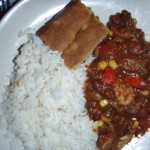 Prep Time: 20 minutes
Cook Time: 30 minutes
Print
Vegetarian Chili
I sometimes make this in the crock pot. It's a nice change from the usual chullent. Just make sure to add enough water.
Ingredients
Instructions
In a large pot, heat oil.
Add onions, garlic and peppers and cook until onions are translucent
Add the rest of the ingredients and stir well.
Cook on medium heat for 1/2 hour. Add water as needed
Let simmer on low heat until ready to serve.
Allergens
Allergens
1/2 hour is all it needs to be ready to serve, but the one cool thing about chili is that the longer you cook it, the better it tastes. Once you get the veggies cooked, you can throw the whole thing in a slow cooker and just leave it overnight.
I still find it amazing how food connects us to time and people. I haven't been to Texas in over 20 years. This one really brings me back.
Add to Favourites