Next week is Israel Independence Day. For that I wanted to come up with the most Israeli recipe that I could think of. I know that falafel doesn't get its origins from Israel and that it's just middle eastern food, but there is something about it that has made people always associate it with Israel.
One of the coolest things about falafel is that it is a vegan food by nature. There's no need to make any substitutions or switch up ingredients. It's perfect the way that it is. It's also pretty easy to make. After making those tagalongs earlier this week, I'm happy to do something easy for a change.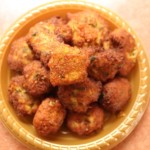 Prep Time: 15 minutes
Cook Time: 20 minutes
Print
Falafel
Making these made me feel so Israeli!
Ingredients
Instructions
Process onion and garlic in a food processor.
Add chickpeas, flour, and salt and process until you have an even batter.
Add parsley and coriander and process for a few more seconds.
Refrigerate for 1/2 hour.
Heat oil.
Drop teaspoonfuls of batter into the hot oil.
Cook until golden brown (about 2-5 minutes).
I've seen a lot of recipes that use raw chickpea. If you'd rather be more authentic, plan ahead and soak the chickpeas overnight. They won't need to be cooked. Just make sure to drain them well and process them instead of the canned ones.
Serve these bad boys with pita, humus, tahini (aka techina) and Israeli salad and you're ready to celebrate.
Chag Atzmaoot Sameach!
Add to Favourites