This one is a fun comfort food. How much fun is frying anything in a beer batter? The batter is fast to make and anything deep fried is incredibly yummy.
To make the "fish", all you need to do is cut up tofu into fish sticks and soak then in a mild vinegar. Soak them for a few hours. If you start making it in the morning, you can fry them up in the afternoon or evening.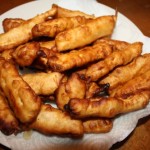 Prep Time: 20 minutes
Cook Time: 5 minutes
Print
"Fish" and Chips
You can fry just about anything in this beer batter recipe. It also makes great onion rings.
Ingredients
Instructions
Fish:
Soak tofu in vinegar and water mixture for at least an hour.

Dry with a paper towel.
Batter:
Mix up all the ingredients.
Dunk tofu in batter (make sure to cover all sides).
Heat oil.
Deep fry, turning over, until golden brown on each side.
Drain on paper towels.
Allergens
For chips, just cut up some potatoes and fry them as well. If you are in a bit healthier mood, you can always spray the potatoes with vegetable spray and cook roast them on each side until golden brown.
You can also make your own vegan tartar sauce to really make it authentic.
1 c. vegan mayonnaise
2 tbsp. sweet pickle relish
1 tbps. minced onion
1 tbsp. lemon juice
Just mix it all up and dip away.
As with all fried food, these are best served fresh. They get soggy if you eat them a day later. Not so yummy.
If you have any of the beer batter left over, you can dip veggies in and fry them too. Onion rings come to mind, but you can use broccoli, zucchini or cauliflower. So yum.
Add to Favourites