The holiday season is upon us. Christmas is just around the corner. It's such a wonderful time of year. People are happy and want to spread cheer around to their fellow man. What better way to do that than to share gingerbread cookies? This recipe makes a lot of them, so you'll be able to spread the love to many people.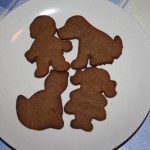 Prep Time: 10 minutes
Cook Time: 15 minutes
Print
Gingerbread Cookies
Get cute cookie cutters. It makes these cookies even more fun.
Ingredients
Instructions
Cream together margarine, molasses and brown sugar.
Add the rest of the ingredients and mix well.
Refrigerate dough for 1 hour.
Roll out to 1/8 inch thick.
Cut into shapes.
Place cookies on greased cookies sheet and bake at 350 degrees for 10-15 minutes.
Cool.
Allergens
Allergens
It's a lot of fun to decorate these guys. I usually get my kids to do that kind of stuff. My cookie artists are out, so I guess that I'll be serving them naked. If you want a good frosting recipe, check my yellow cake recipe. At the bottom you'll find white frosting. Just add a little food color and you will be set to go.
When you are rolling out the dough, if it sticks a bit to the pin, dust the pin with flour. Don't sprinkle too much on the dough. The dough is dark and you don't want little flour dots showing up on your finished product.
As a note, this really is a very good recipe. My husband doesn't like anything with ginger. The fact that he is not only willing to eat them, but actually likes them says a lot.
Have a wonderful holiday season!
Add to Favourites