My mom just had her birthday. She's like me, a real chocolate person. Now that I've made a name for myself as a bit of a baker, I had no choice but to go all out for mom's birthday.
The recipes that I put on this blog are either my own concoctions, or modifications that I've made to other recipes. This is the first recipe that I pretty much followed from start to finish. After all, I didn't want to take any chance with my mom's cake.
Here's a video that I found on 5min:
There are three steps to make this cake: cake, cream and frosting.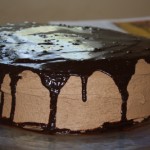 Prep Time: 60 minutes
Cook Time: 20 minutes
Print
Triple Chocolate Chocolate Cake
This cake is totally decadent!
Ingredients
Instructions
Cake:
Mix ingredients together.
Pour in 2 circular baking dishes that have been sprayed with Pam.
Bake 20 minutes at 350 degrees
Butter cream:
8 oz. bitter sweet baking chocolate
1/4 c. maple syrup
12 oz. tofu
1 c. margarine
1 tsp. vanilla
Melt chocolate.
Put all ingredients in a food processor and blend.
Add chocolate and blend until creamy. Scrape sides as necessary.
Refrigerate.
Fondante:
4 oz. baking chocolate
1/2 cup soy milk
Melt chocolate.
Stir in soy milk.
Putting it all together:
Take cream out of fridge and whip.
Place one layer of cake on a plate.
Spread about 1/3 of cream on the cake.
Add second cake.
Spread cream on top and sides.
Cool in fridge to let firm up.
Pour fondante on and spread. You can let it drip down the sides.
Decorate.
Allergens
It was a lot of work, but it came out really yummy. This is totally a special occasion cake and takes a lot of time to make. I must really love my mother!
Add to Favourites