This recipe is one that got me started with this whole blog in the first place. I had been experimenting with vegan baking and I made cinnamon rolls. I posted a picture on facebook and got so many comments and questions that I decided to start blogging about all the stuff I'm making. So far, it's been a real hit. Thank you guys!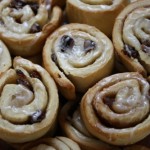 Prep Time: 60 minutes
Cook Time: 30 minutes
Print
Cinnamon Rolls
These are best eaten warm.
Ingredients
Instructions
Activate yeast in warm water and sugar.
Add the rest of the ingredients and knead into a nice dough.
Let rise 1 hour.
Separate dough into 2 halves. Roll each half into 1/4 inch thick rectangle.
Brush each rectangle with melted margarine.
Mix sugar and cinnamon together and sprinkle on the dough.
Sprinkle on raisins.
Roll up dough and press closed.
Slice each roll into 10 - 12 sections.
Place on greased cookie sheet and let rise 1/2 hour.
Bake at 350 degrees for 20 minutes.
Mix up powdered sugar and soy milk.
Spread on warm cinnamon rolls.
Eat.
Allergens
One of the things that I really like about this recipe is that there are no weird ingredients. They are things that practically everyone has in the house. No one needs to make a special trip to the health food store to buy weird vegan ingredients. You can even get soy milk at any grocery store these days. As a matter of fact, I've made this recipe with margarine instead of shortening because that's what I had in the house. Shortening makes them a bit lighter, but the margarine works OK too.
It's true, at least for now, that to be vegan you need to make a lot of stuff yourself. Even people that haven't decided to make the change in their lives to stop using animal products can still make a difference when they do their own cooking and baking to do it vegan. These types of things are baby steps that move us in the right direction to a kinder diet.
Besides – there's nothing like homemade cooking is there? So yum!
Add to Favourites