While searching out new and exciting recipes, I came up with this one. I live in Israel, and you just can't find English Muffins here. I was so excited to whip a batch of these up. It takes a bit of time waiting for the dough to rise, but they come out really yummy, so they are worth the wait.
When they were done, my son ate a couple without putting anything on them. He thought that they were so good that they didn't need anything else. I personally like them toasted with this olive oil margarine spread. It melts right into the nooks and crannies, just like I remembered. So yummy.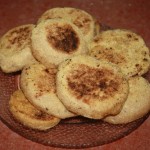 Yield: 12
Prep Time: 20 minutes
Cook Time: 8 minutes
Print
Homemade English Muffins
These are really fun to make. The cook up fast in the pan. Make sure not to cook them too quickly or the insides won't be cooked through.
Ingredients
Instructions
Activate the yeast in the water and sugar mixture.
Add flour and salt and knead for 5 minutes.
Let rise 2 hours.
Separate dough into 12 patty like discs.
Dip each side cornmeal.
Let rise 30 minutes.
Heat skillet and spray with vegetable spray.
Cook on each side until golden brown (about 4 minute).
Split apart and spread with your favorite topping.
Allergens
Allergens
The more bread baking I do, the more that I realize how easy it really is. Sure, it takes time, but most of that time is just waiting around. I'm sure that this dough can be done on the dough cycle of my bread machine.
Add to Favourites