After writing about vanilla last time, I thought that it was only appropriate to talk about chocolate this time. I mean sugar cookies are nice and all, but there is nothing like gooey, fudgy brownies. I think that they might be my favorite food in the world.
It's funny how food can control our emotions. Just writing about them puts a smile on my face. There are just times that I need chocolate. I try not to keep too much chocolate in the house because it can get dangerous. It's lucky that I've always been a huge fan of dark chocolate, so becoming a vegan didn't affect my chocolate addiction.
Something that I love about making brownies (besides having brownies in the house to eat) is that you mix brownies by hand. There's no need to take out and clean the mixer. I don't really think that it's such a hard thing to clean the mixer, but maybe that's just because my husband does it. Either way, psychologically, it just seems like so much more work when I do take it out. Is it just me?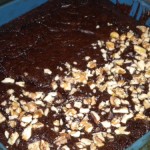 Yield: 12
Prep Time: 5 minutes
Cook Time: 30 minutes
Print
Fudgy Vegan Brownies
Make sure not to overcook these. If you do, they may lose their fudginess.
Ingredients
Instructions
Mix all the ingredients together.
Pour into a pan.
Bake at 350 degrees for 30 minutes.
Eat.
Allergens
My kids don't like walnuts but my husband does. I don't really care for walnuts all that much myself – I'd never eat them plain, but I think it must be a law or something that they are the brownie nut of choice. They work in brownies. To keep everyone happy, I cut up half the amount of walnuts and sprinkle them on top, and then lightly push them into the batter before they are baked.
For me, this is a real comfort food. They really hit the spot. Luckily for me, my son had friends over after I made them so the temptation of eating them all is gone because they had a fun time chowing down.
Add to Favourites