This is something that I had to make. This is something that I've wanted to make for a long time. This is the one thing that I've really been missing since going vegan. Yup, Kubbeh soup.
My Iraqi grandmother was one of the most amazing cooks ever. I have fond memories of going to her house on Sunday, and while my father and grandfather spent the time playing backgammon, my grandmother would cook for me and my brother. My grandmother didn't speak any English, and we didn't speak any Arabic, so we spent our time with her communicating in a type of sign language and eating. A lot of love went into everything she prepared.
Before going vegan, I used to buy the ready made kubbeh and just make a tomato vegetable soup to go with it. It was really easy to do, and my family loved it. Making it always reminded me of my grandmother. I know that it was a shortcut, and my grandmother wouldn't be caught dead using the store bought stuff, but it just saved so much time!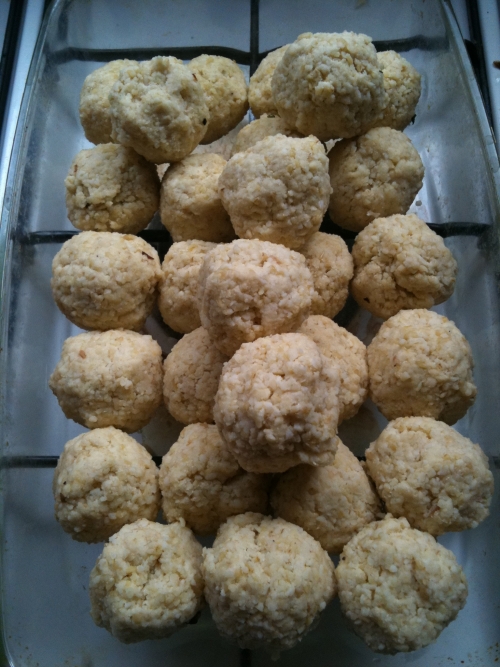 A while back I went to a cafe that offered a vegetarian version, so I knew that it was possible, but I left it at that. It was really good, but I never thought that I would go to the effort of actually making it myself. Then I became vegan.
I missed it too much not give it a try. I am so happy that I did. It's really yummy in general, but for me it has such strong memories that I just couldn't live without it.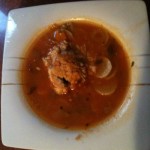 Prep Time: 40 minutes
Cook Time: 60 minutes
Print
Kubbeh Soup
This is a great treat from my Iraqi childhood.
Ingredients
Dough
bulgur - 2 cups
semolina - 2 cups
salt - 1 teaspoon
water - warm
Filling
olive oil - 2 tablespoons
onion - 1 large, chopped
garlic - 2 clove, minced
shitake mushrooms - 2 cups
mushrooms - 2 cups
pine nuts - 2 tablespoons
parsley - 2 tablespoons, fresh, chopped
salt - 1/2 teaspoon
Soup
olive oil - 2 tablespoons
onion - 1 large, chopped
garlic - 2 cloves, minced
carrots - 2 large, chopped
kishuim - 2 large, chopped
celery stalk - 1, chopped
parsley - 2 springs, chopped
tomato paste - 1 can
lemon juice - 1 tablespoon
water - 8 cups
Instructions
Dough:
Pour warm water over bulgur and let sit an hour to absorb.
Squeeze out extra water and add salt and semolina and kneed into a dough.
Filling:
Heat oil.
Add onions, garlic and mushrooms and cook until onions are translucent.
Add rest of the ingredients and cook until parsley is wilted.
Assembly:
Roll dough into balls.
Make a well with your thumb.
Fill with 1-2 teaspoons of filling and seal.
Soup:
Heat oil.
Add vegetables and cook until onions are translucent.
Add rest of the ingredients and bring to boil.
Gently add kubeh to soup and cook for an hour.
Serve.
Allergens
I won't tell you that this soup isn't a lot of work. It is. Making the balls took time, but it was well worth it. Just like my when my grandmother made them, this is an expression of love. I showed my vegetarian son the kubbeh balls in the fridge and he gave me a big hug. It was worth it just for that. It's also worth it because it tastes really good.
Add to Favourites