Vacation. I can't help feeling like it's vacation whenever I make waffles. The tradition started a few years ago, that whenever we have most of the family home (and awake) I make waffles.
Since I make whole wheat (I actually use 70% whole wheat) flour, they are a healthy way to start the day. I like making them better than pancakes because there is much less mess. Frying is also a lot unhealthier than the vegetable spray I use on the waffle iron.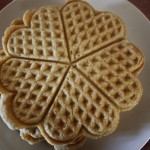 Yield: 6
Prep Time: 5 minutes
Cook Time: 5 minutes
Print
Whole Wheat Waffles
You can make these with white flour as well.
Ingredients
Instructions
Heat waffle iron
Mix all ingredients together.
Spray iron with vegetable oil spray.
Cook according to waffle iron instructions.
Allergens
I spray my iron after each waffle, otherwise I find that the waffles stick. If there are any waffles left over, my kids like to take them as a snack on the run. They eat them "as is," without any added syrup.
When we sit down as a family, it's a totally different story. Both maple and chocolate syrup come out. Sometimes we even have whipped cream. So much for healthy!
Add to Favourites