I needed to figure out what to make in a hurry one Friday afternoon. This is very easy and very yummy. I used to make sloppy joes with ground beef or chicken. I just substituted tempeh for the beef, and it worked out perfectly.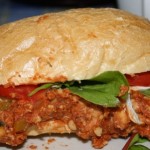 Vegan Sloppy Joes
Just looking at the picture makes me hungry.
Ingredients
Instructions
Heat oil in a deep frying pan.
Add onions, garlic and pepper and cook until onions are translucent.
Add tempeh and mash into little chunks.
Add the rest of the ingredients and heat through.
Serve on a roll.
Allergens
Allergens
I like to add lettuce, tomato, fried onions and vegan cheese, but that's just me. Make your sloppy joes the same way that their non-vegan brothers are made, and have a good time.
If you already have a sloppy joe recipe, just substitute tempeh. As a matter of fact, Manwich sauce works really well and is even easier than the recipe above.
The main point of this recipe is that you really don't need meat to eat well. Tempeh is yummy and has a lot of vitamin B12, which is something that vegans and vegetarians sometimes lack. I'll be using it in a lot more recipes in the future.
Add to Favourites