I am always looking for new and interesting things to make for Shabbat lunch. I like to have things that I can stick on the plata (aka hot plate) before I go off to shul that won't dry out when I get back. This stays nice and moist. Yum!
It's taken me some time to come up with a quiche recipe that I'm happy with. A lot of the recipes out there call for silken tofu. Unfortunately, I haven't been able to find silken tofu in Israel. It's been a real bummer for me because there seem to be a lot of creamy recipes out there that call for it. This recipe uses good old fashion regular tofu. I also use soy cooking cream to give it extra richness.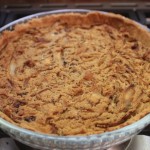 Yield: 12 servings
Prep Time: 25 minutes
Cook Time: 60 minutes
Print
Onion Quiche
I use the same pie crust for all my pie recipes. It's an oil based crust that works well for this too.
Ingredients
Instructions
Partially bake pie crust (about 15 minutes at 350 degrees)

Fry onions and garlic on a low heat until onions are translucent.

Process the rest of the ingredients in a food process (not including the pie shell, of course) and process until creamy.
Stir onion garlic mixture into tofu mixture.
Bake for 45 minutes at 350 degrees
Allergens
Cooking the onions slowly is very important. As they cook, they break down and become soft. As they do that, they become sweet and yummy. Do not rush them. If you try to cook them too quickly, they will burn and just taste horrible.
On a side note – I haven't been able to find silken tofu in Israel, but that doesn't mean that it doesn't exist here. If anyone knows where to get it, please let me know!
Add to Favourites