I use mushrooms in so many dishes, that I think I may one day turn into a mushroom. Different mushrooms have different flavors. Portobello mushrooms have a wonderful meaty flavor and are nice and big, so you feel like you are having a juicy piece of meat. (Well maybe not exactly, but it is pretty close).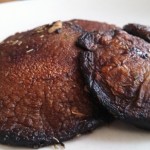 Portobello Mushroom Steaks
You only use the caps for this recipe. I save the stems and use them in other dishes. Waste not, want not.
Ingredients
Instructions
Gently remove stems from mushrooms
In a Ziploc bag, add all the ingredients
Let mushrooms marinate for a couple of hours
Heat oven to 350 degrees
Remove mushrooms from marinade and roast on a cookie sheet for 20 minutes
Flip mushrooms and cook 5 more minutes
Serve warm
Add to Favourites