Pineapple upside down cakes are really cool. With very little effort, they come out really pretty. All you have to do is put it on a plate and serve. It looks very impressive.
I think that pineapple is my favorite fruit ever. I like it in nearly every form it comes in. They only really started selling fresh pineapple in Israel in the last few years. Before that, the best you could do was either canned or dried. And even the dried stuff they had was that overly sweetened stuff. You can now get dried pineapple without added sugar in the health food stores here. If you've never had it, it's a wonderful treat.
Here's my recipe: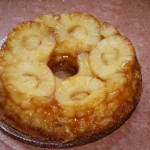 Yield: 12
Prep Time: 15 minutes
Cook Time: 30 minutes
Print
Pineapple Upside Down Cake
This is a really pretty cake. I love to make it for company.
Ingredients
Instructions
Spray spring form pan with cooking spray.
Place pineapple slices and maraschino cherries at the bottom of the pan. It should be completely covered.
Sprinkle with brown sugar.
In a separate bowl, mix the rest of the ingredients together on high for a couple of minutes.
Pour batter over pineapple.
Bake at 350 degrees for 25-30 minutes. Check with a toothpick to make sure it's done.
Carefully flip onto a serving plate and remove pan.
Let cool and serve.
Allergens
Allergens
3.75

stars - based on

4

review(s)
Be careful when you remove the pan from the cake. I'll sometimes take a knife to the edges of the pan to make sure that cake doesn't stick before I try to remove it. On the plus side – it doesn't need any frosting. On the downside – you can't cover it with frosting to hide any mistakes.
If you don't have pineapple juice, you can use water and just increase the amount of sugar that you use from 1/4 c. to 1/2 c. I like using pineapple juice because it makes the whole cake pineappley, but both work fine.
I very rarely have maraschino cherries in the house, but they make the cake look so pretty that some people might say that it's wrong to make the cake without them. If you do use maraschino cherries, place one in the center of each pineapple ring and around the edges for a very pretty effect.
Add to Favourites