This is another one of my raw-friendly recipes. I like to find new recipes that are sugar-free for when my cousins come. This is one of the stranger ones. To get the creaminess of the mousse, you use a very unlikely ingredient: avocado. The first time I saw this recipe, I thought, what are these people trying to prove? I was intrigued and had to try it. It was surprisingly good.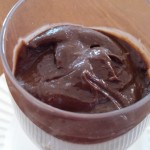 Raw Chocolate Mousse
Don't be afraid of the avocados. Just make sure that they are super ripe before you start. If not, they won't blend well and you'll be left with a super mess.
Ingredients
Instructions
Remove peel and pit from avocados
Put everything in a blender
Process until smooth
Serve chilled
Add to Favourites