Today is Israeli Independence Day and I won't be wimping out on my barbecue. Instead of making the traditional barbecue fare, I'll be making my type of ribs.
This is not my recipe, it's from The Complete Guide to Vegan Food Substitutions cookbook. I've changed a few things because I either didn't have what it called for or you just can't get the ingredients in Israel, but it still came out really yummy.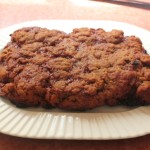 Prep Time: 15 minutes
Cook Time: 1h 30 min
Print
Vegan Baby Back Ribs
Feeling independence is best done cruelty free.
Ingredients
Instructions
Mix all the dry ingredients together.
Add the wet ingredients and mix it in a mixer with the dough hook.
Line pan with parchment paper and pour 1/2 c. barbecue sauce in the bottom of the pan.
Shape dough into a rectangle and place in the pan.
Pour the rest of the barbecue sauce on the top of the dough.
Seal with tin foil and bake at 350 degrees for 1 to 1 1/2 hours.
Allergens
Allergens
The original recipe added stuff like liquid smoke (1 tbsp.), but I haven't been able to find it here. You can find wheat gluten. I looked all over for it and finally found it in a baking store – health food stores in Israel just don't carry it. Every time that I asked for it at the health food store, the person in the store would take me to the gluten free stuff. Definitely not what I was looking for.
It's already made, but I won't be eating this until later – I'd like to put it on the grill a bit before eating to give it those pretty grill marks.
Chag Sameach!
Add to Favourites