I never made fudge before I turned vegan. It's one of those things that you think is just impossible to make, so you don't get started. And it's not something that I could just go out and buy in the store. Fudge really isn't an Israeli thing.
When I was here on my year abroad, about 20 years ago, there was one place that you could buy fudge. It was in Jerusalem, in the city center, in a store call Happenings. There they sold Cowboy Fudge (I think that the person who made it was originally from Texas). He had all different types of yummy flavors.
Not that I could eat it now anyway, but both the cowboy and the store are long gone. It's something that just never caught on over here. Reminiscing, I decided I was going to make my own fudge. To my very pleasant surprise, it is so easy to make.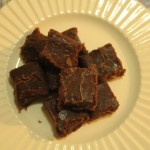 Yield: 25
Prep Time: 5 minutes
Cook Time: 10 minutes
Print
Peanut Butter – Chocolate Fudge
This is one of my favorite, one pan recipes. Just pour everything in and stir!
Ingredients
Instructions
Melt everything together in a sauce pan.
Line pan with parchment paper.
Pour into pan and refrigerate until hardened.
Allergens
That's it. Super easy and very yummy. I made a batch before Shabbat, and what you see in the picture is all that was left – and that was after me telling everyone to leave some over so that I could take a picture for the blog.
It's far from health food, so I don't make this very often. Once in a while I'll make it, cut it in squares and stick it in the freezer for when I'm having a serious chocolate attack. This is definitely the best cure for that.
Add to Favourites