There really is nothing like getting up in the morning and making a stack of pancakes. To me, it just seems like vacation. Even before going vegan, I'd make a stack of them and we'd eat them all sitting down together at the table. Pancakes, milkshakes and orange juice. I'm not saying that it was the most nutritious breakfast in the world, but we have a good time.
Out of all the recipes in this blog, I think this one was the most important to veganize for my family. This is one of our food traditions. It would have been just horrible to give it up. Food really does matter. It's a huge part of our traditions. Vacation pancakes just gives me this warm, fuzzy feeling inside.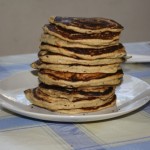 Prep Time: 5 minutes
Cook Time: 5 minutes
Print
Vegan Pancakes
This was the simplest recipes to convert to vegan. No eggs are needed.
Ingredients
Instructions
Mix ingredients together.
Heat up frying pan and spray with vegetable spray.
Pour about 1/4 cup batter on the hot pan.
Cook for about 1 min. and flip over. Cook for another minute or so.
Serve with maple syrup.
Allergens
I don't make those little pancakes. I always found them annoying. One thing that I really like about making real pancake-size pancakes is that my kids can take one or two with them to school on days that they just don't have time for breakfast. There are always a couple left over. I have teenagers and it's something easy for them to throw in a ziplock bag and take with them.
What foods are part of your family traditions?
Add to Favourites