I love it Italian food. When I was a teenager, I'd come home from school, boil up a pot of spaghetti and eat it with marinara sauce and Parmesan cheese. That was my dinner every day, and I was  happy.
Being vegan might have put a bit of a crimp into my cheese eating, but I still have a lot of fun with Italian food. One of my favorite things to make is lasagna. This recipe is really vegan. I think it's the first recipe that I've posted that actually uses tofu.
The one thing that I really like about using tofu in this recipe (as opposed to soft cheeses like ricotta or cottage cheese) is the fact that it doesn't get absorbed and disappear into the lasagna. It keeps it volume.
Here's my recipe: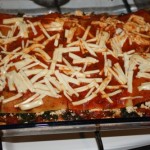 Prep Time: 30 minutes
Cook Time: 30 minutes
Print
Vegan Lasagna
It's a bit of a cheat, because it uses store bought marinara sauce. If you want to be even more authentic, you can make your own.
Ingredients
Instructions
Fry up onions in olive oil until translucent.
Add mushrooms and fry for 5 minutes.
Add spinach and fry for 2 minutes.
In a seperate bowl, crumb up tofu with our hands (my kids love doing this - they think it's a lot of fun).
Mix in oregano and basil to tofu.
Layer noodles at the bottom of the pan.
Layer sauce, 1/2 of spinach mixture, then 1/2 tofu and cover with another layer of noodles.
Repeat.
Cover with sauce and sprinkle with soy cheese.
Add water so that there is 1/2" water at the bottom of the pan.
Cover tightly with tin foil and cook at 375 for 25-30 minutes.
Allergens
I think that I've made this recipe more than any other since I became vegan. It's really fun to make. It's not just the kids, I really enjoy breaking up the tofu with my fingers. I'm not sure what that says about me.
You can also have fun with this and added grilled vegatables in the layers. Zuchinni and eggplant work nicely. That's one of the nice things about cooking instead of baking – you can feel a lot more free to play around with the ingredients. Have fun with it and enjoy.
Add to Favourites