I like rolling out dough. It's a great way to relieve stress. You might think that it only pays to roll when you have time, but I think the best time to make these cookies is when you need some release.
I chose to make sugar cookies because I'm going to visit my older daughter today (not the same daughter that I made chocolate chip cookies for). She's a vanilla girl. I don't quite get that. When I have a choice between eating something chocolate or something vanilla, I always go for chocolate. My son is the only one in my family that agrees with me about the chocolate thing. My girls follow my husband's lead with this vanilla thing. There's no accounting for taste.
Here's the recipe I use: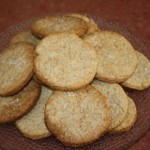 Prep Time: 20 minutes
Cook Time: 10 minutes
Print
Vegan Sugar Cookies
These are fun to make with the kids. I made them with my son and he had fun decorating them with colored sugar.
Ingredients
Instructions
Put all the ingredients in a mixer and mix.
Roll out dough to 1/4 in. thick
Cut into shapes.
Arrange on a cookie sheet.
If you are dusting with sugar, do it now, before it goes in the oven.
Bake at 350 degrees for 10 minutes.
If you are frosting, let cool and have a good time.
Eat.
Allergens
Allergens
If you notice in the recipes that I post, I don't use egg substitutes – at least not the kind that you buy in the grocery store. Apple sauce makes a great substitute for eggs in baking. It makes it a bit sweeter, so you can knock off some of the sugar if you are using it as a substitute in recipes.
I made my cookies and now I have a zen kind of feeling. Enjoy.
Add to Favourites