The first person to introduce me to Wacky Chocolate Cake (aka Crazy Cake or Mix in the Pan Cake or Depression Cake) was my cousin Toby. She made it for me for my birthday last year. I had never heard of it before. It's totally vegan by nature, so there is no need to change anything about it.
Back in the old days, during the depression, things like milk and eggs and butter were too expensive to use in a cake. Very inventive women (I assume) came up with an amazing recipe that needs none of those non-animal friendly ingredients. This recipe calls for vinegar. That's really inventive. I would have never thought of using vinegar in a cake. It's sort of counter-intuitive. I mean, when I think of cake, I think sweet. Sweet is the last thing that I think of with vinegar. Don't worry, there's no way to tell that there is any vinegar from tasting the cake – it's completely undetectable and completely yummy.
The other cool thing about the cake is that you make it in the pan that you are going to bake it in. That's right, no bowl to clean. That has both good and bad ramifications. It makes cleanup really quick, but it also means that you don't have a bowl to lick when you are done. That's a real bummer, because the batter is really good.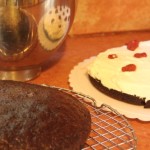 Prep Time: 10 minutes
Cook Time: 40 minutes
Print
Wacky Chocolate Cake
This cheap to make cake is totally rich!
Ingredients
Instructions
Pour dry ingredients into baking pan and mix together.
Make 3 wells in the dry ingredients, using one for vanilla, one for vinegar and one for oil.
Pour water over all the ingredients.
Stir together with fork, making sure to get into the sides and corners.
Bake at 350 degrees for 35-40 minutes.
Allergens
That's it. All that's left to do is wash your measuring cups and the fork you used to stir it all together. Pretty cool, no?
Just a note of caution – it's a small cake. Each cake in the picture is a separate recipe. I kind of like the idea of making small cakes once in a while. There's just a limited amount of damage that I can do to my diet.
After tasting this cake, you'll wonder why people went back to making cake with eggs. It's really incredibly moist and yummy. I can't wait to take have a piece! Yum!
Add to Favourites