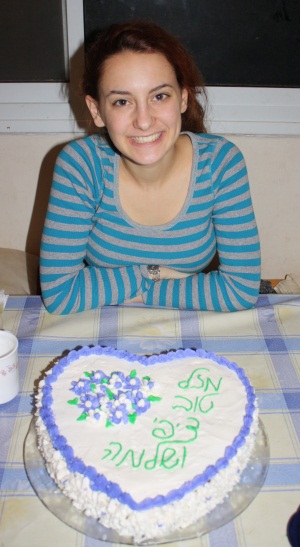 I love chocolate. I think that I might have mentioned it once or twice (or almost any chance I get). I really love chocolate. That's why when I find a yellow cake that I really love I feel I need to share.
I did not create this cake recipe. I got this from a great book called Quick and Easy Vegan Comfort Food
by Alicia C. Simpson. This is an amazing cookbook. It's just what you'd expect it to be.
Back to the cake. If I'm pushing a vanilla cake, you know it has to be good. I've made this cake a bunch of times and each time I'm surprised how much I like it. Good cake is good cake.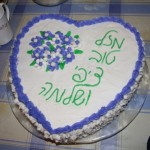 Prep Time: 20 minutes
Cook Time: 30 minutes
Print
Yellow Cake
This is a wonderful basic yellow cake.
Ingredients
Instructions
Cream together sugar and shortening.
Add the rest of the ingredients and mix for 3-5 minutes.
Pour into greased baking dish.
Bake for 25-30 minutes at 350 degrees.
Allergens
5

stars - based on

1

review(s)
I recently made this cake for an engagement party. I have to say that I cheated a bit. Instead of decorating it myself, I got my daughter to do it. She is really talented. Not only did it come out yummy, she made it look really gorgeous.
Here's her frosting recipe:
1 c. margarine
4 c. powdered sugar
1 tsp. vanilla
1 1/2 tblsp.  no-dairy cream
Process margarine in mixer until creamy.
Add vanilla and sugar slowly so that you don't make a big smoke screen.
Add creamer and beat until smooth.
This is a lot of frosting, and whatever is left over can be stored in the fridge for a few months. It's a heavy frosting . If you are decorating a cake, you might need to lighten it up. Just add more creamer until you get the consistency that you like.
This just goes to show you that you really don't need to use eggs or weird ingredients to make amazing food. The more vegan cooking that I do, the more I wonder why it's necessary to use eggs in the first place, at least for most recipes. There really is no reason that I can think of.  It can be easy to be animal friendly.
Add to Favourites