I love Chanuka. It's such a beautiful holiday. The whole family gets together to light candles and sing. Really nice. It's also a great time to invite friends and family over.
There is something that you should know about Chanuka – it's really not the healthiest holiday in the world. After all, we are celebrating the fact the the oil lasted eight days instead of one. What better way to do that than to eat fried food? That's why foods like latkes and sufganiot figure so prominently in the holiday.
Chanuka is winding down. Before it was over, I figured that I should make some latkes. I keep my latkes very simple. My family isn't all that into pepper, so I leave it out, but feel free to add a bit for more flavor.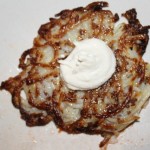 Prep Time: 10 minutes
Cook Time: 10 minutes
Print
Latkes (aka Potato Pancakes)
This is the taste of Chanuka!
Ingredients
Instructions
Process flax seeds with water until it becomes a sticky, thick mixture.
Mix all ingredients together.
Form into patties.
Fry on each side until golden brown.
You can use either canola or olive oil. Olive oil is more traditional, but it has a very distinct taste that not all people like. I usually use canola myself.
Happy Chanuka!
Add to Favourites