Thanksgiving is in a couple of days. Last year I spent some time talking about Tofurkey. This year, I don't think that I'll be making Tofurkey again, but I will make all the side dishes that the family loves.  My family isn't all that big on tofu to begin with, so we'll be having some sort of seitan dish. I'm not sure what yet. Whatever strikes my fancy on Thursday morning.
When I think of Thanksgiving, I think of stuffing, sweet potato soup, corn on the cob, pumpkin pie and anything that can be made with any form of squash. This is the perfect time of year for zucchini. I mean, there's no wrong time of year for zucchini, but somehow autumn just seems right to me. Call me crazy.
In Israel, they don't carry the dark green zucchini that they have in the US. You can get a lighter green variety called Kishuim. Kishumin is sold all over and is easy to find. It's a local vegetable, as opposed to the imported dark stuff, so it's also more environmentally friendly. It has practically the same taste.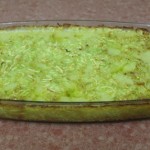 Yield: 20
Prep Time: 10 minutes
Cook Time: 60 minutes
Print
Zucchini Souffle (aka Kishuim Kugel)
As long as you have a food processor, this is easy to make.
Ingredients
Instructions
Grate onions and kishuim.
Mix all ingredients together and pour into a baking pan.
Bake at 375 degrees for 1 hour.
Allergens
Allergens
There is something very strange about this recipe. You need to make it ahead of time and let it cool off and then reheat it before you serve it. Out of the oven, it comes out liquidy. You need to give it time to firm up. Overnight in the fridge is fine. Don't get me wrong, it tastes the same right out of the oven, but it's not nearly as pretty. I made this souffle on Succot for a get together that we had at a friend's house and didn't give it time to firm up. People were scared to try it. Once they did, they were surprised how yummy it was. I came back with an empty baking dish. Presentation is so important when it comes to food, especially new foods.
I want to take some time to wish everyone an amazing Thanksgiving! I hope that everyone enjoys it with good friends and family. May we all remember all the wonderful things for which we can be thankful, and all the people that make our lives special.
Add to Favourites