I have been traveling way too much lately. Don't get me wrong, I love going to new places and experiencing new things, but now that I'm kosher and vegan, I need to do a lot more thinking about what I'm going to eat. Kosher is harder than vegan, but when you throw the two together, it really cuts down on a lot of options.
Instead of going to hotels, I've been opting to go to people's houses. When I went with my kids to Florida, we rented a vacation house. When we went to New York, we stayed at my father-in-laws apartment. This time we're in LA, so we've found a place through AirBnB that has a kitchen. AirBnB is a website where people put up their houses/apartments for rent while they are away. It's actually cheaper than a hotel, and it comes with stuff like a kitchen. Sweet.
Even with a kitchen, life is still a challenge on Shabbat. I like to eat hot food on Shabbat. It's just not Shabbat without it. In one of my more brilliant moves, especially brilliant because this all happened at 3am in the morning in a Walmart while horribly jetlagged, I came up with the idea of buying a mini crockpot and making chullent for Shabbat. That and some vegan cold cuts, and we're all set to go for a nice Shabbat lunch.
I am a big fan of Walmart. They are a travelers dream. They have everything and it isn't hard to find one that is open 24 hours. For some reason, that 24 hour thing is very important to us. We seem to land really late at night (even if we aren't supposed to) and it's basically the only place that's open. The problem with going to Walmart as soon as you arrive from Israel to the United States is that you really can't spend less than 2 hours there. Well, you probably, but we can't. There is just so much stuff. It's true that I could make a list and just run in and run out, but what would be the fun in that? Besides, if I hadn't been strolling through the aisle, I would have never noticed the $10, 2 quart crockpot and come up with my epiphany.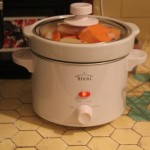 Yield: 4-5 portions
Prep Time: 20 minutes
Print
My Vegan Travel Chulent
Perfect for when you need to spend Shabbat on the road.
Ingredients
Instructions
Peel and chop everything up.
Put it in a crockpot.
Cover with water and let cook overnight on low.
Allergens
Allergens
The great thing about this chullent is that you really don't need a recipe. This is what I do, but you can put in whatever stuff you like. I once tried a vegan churizo sausage that I found in the vegetable section of the supermarket, but it was way too spicy for us. If you like beans, you can stick a 1/2 can of beans in there as well. We once made it with baked beans, and that came out yummy too. The point is, this is all stuff that you can find at your everyday supermarket. There is no need to stress out and try to figure out what to eat, no matter where you are.
On a side note, I really like LA as far as vegan and kosher goes. They have an amazing restaurant called Real Food Daily that is so yummy. I don't remember the last time that I was able to go to a nice restaurant and be able to not worry about what I was ordering from the menu. It is a really nice treat.
Even with all that, I still can't wait to get home. Mom, Shira, Ari, Zahava – I love you and I miss you guys!
Add to Favourites