Mushrooms have to be my favorite food ever. I don't really know how they come into being, but I'm so glad that they are here.
Cream of mushroom soup was always something that we bought. I never thought of making it myself until recently. The idea of cooking with milk is not something that I was brought up on. Besides that, the Israeli soy milk is a bit too sweet to use and is not really the best thing for cooking. I like to use almond milk that I make myself for this recipe. It gives the smoothness without the sweetness.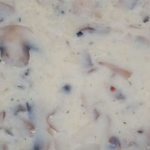 Prep Time: 15 minutes
Cook Time: 20 minutes
Print
Cream of Mushroom Soup
All types of mushrooms work for this soup. I use the regular, button mushrooms. If you want a stronger mushroom flavor, try shitake.
Ingredients
Instructions
Heat oil in the bottom of a soup pot
Add onions, mushrooms and garlic, and cook on a medium heat, until mushrooms are translucent
Add potato starch and mix to create a paste
Slowly add the liquid to break up the potato starch mixture
Add the rest of the ingredients and bring to a boil
Lower heat and cook 20 minutes longer
Serve warm
How useful was this post?
Click on a star to rate it!
Average rating / 5. Vote count:
Add to Favourites