I love making these muffins. They are so simple, and all you need is a bowl and a spoon. There is practically no mess to clean up from. That is a big plus for me.
I don't usually have access to fresh blueberries, so I've only made this one with frozen ones. It comes out really yummy with frozen, I can only imagine what t tastes like with fresh.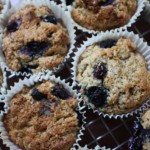 Prep Time: 10 minutes
Cook Time: 20 minutes
Print
Blueberry Muffins
These make a great breakfast nosh.
Ingredients
Instructions
Mix together all ingredients except blueberries.
Add in blueberries and mix some more.
Grease and spread mixture into 12 cupcake pans.
Bake at 400 degrees for 20 minutes.
Allergens
If you are using frozen blueberries, don't defrost them. If you do, they can get mushy and the juice can turn your muffins green.
I have teenagers and my kids run out of the house, usually without eating breakfast. I feel a little bit better when they take a muffin with them.
Add to Favourites