With Passover around the corner, I'm still fretting what to feed the family. I've been racking my brain for interesting and yummy things to make sure that my family doesn't go hungry this Passover. Vegetables, in general, are no brainers. All veggies are Kosher for Passover, and with the exception of beans and corn, most aren't kitnyot, so I can server to anyone that walks into my house.
I've been making cauliflower poppers for years. What I really love about them is how simple they are. I also love that the kids can't stop eating them. It's really cool to be able to make something with such a wide appeal. I'll make a batch and by the time dinner comes around, there are practically none left because they've all been noshed away. So if you're going to make them, you might as well make a double batch.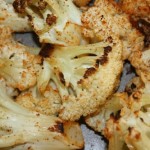 Prep Time: 5 minutes
Cook Time: 30 minutes
Print
Cauliflower Poppers
This is one of my favorite recipes because it's easy, healthy and everyone loves it.
Ingredients
Instructions
Cut up cauliflower into bite-size pieces and place in large Ziploc bag
Sprinkle in all of the spices and shake until the cauliflower is evenly coated
Spray a baking sheet with vegetable spray and place the cauliflower on it
Bake at 400 degrees for about a 1/2 hour, or until cauliflower is cooked through
Serve warm
I really don't think that you can get much easier than that. The hardest thing about the whole recipe is cutting up the cauliflower, and although I've often told my husband that I'd like a sous chef for my birthday (I find constant cutting a drag and time consuming), this is really not that bad.
I like to use fresh cauliflower, but in a pinch, frozen works well too. You just need to cook it a bit longer so that it's not soggy. It used to be impossible to get fresh cauliflower here, but now we get it all the time. The trick is to go to the supermarket before he runs out.
Another really cool thing about this recipe is that it's practically fat-free and has practically no calories. Since Passover is all about freedom, this really fits the bill. I really love recipes like this one because it makes my vegan Passover a whole lot less scary. Isn't that what freedom is all about?
Add to Favourites