Well, tonight is Passover. I've been stressed out all week about what to make. I think that I finally have a handle on it all. One of my no-brainer things to make is Tzimmes. If you don't know what Tzimmes is, it's basically a sweet stew. I make this twice a year – on Rosh Hashana and Passover. I'm not sure why I don't make it more often. I should.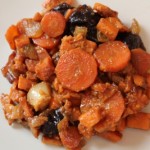 Prep Time: 20 minutes
Cook Time: 30 minutes
Print
Tzimmes
This is a holiday staple in our house.
Ingredients
Instructions
Heat oil in a pot
Add onions and cook until translucent
Add carrots and cook for 5 minutes
Add sweet potatoes and cook for another 2 minutes
Add the rest of the ingredients and stir until veggies are covered with honey
Let stew on a low flame until sweet potatoes are cook through and prunes are soft
Serve warm
I think that the reason that I don't make it more often is because the kids turn their noses up at prunes. It's funny, I did the same thing when I was their age. They like the rest and are happy to eat around the prunes. They don't know what's good.
I gotta get back to cooking, but I'd like to wish everyone a happy Passover. As we say in Israel, have a Chag Kasher v'Sameach!
Add to Favourites