I think that matzah ball soup has to be one of the most traditional foods around. I couldn't imagine a Passover Seder without them. That's why I went on a mission to figure out how to make them egg-free. These babies are also kitniyot free (no legumes). When I first thought about making them, I thought that using flaxseeds would make sense. It would have made sense if I were still Sefardic (as I was before I got married. My husband holds the Ashkenazi trump card.) Unfortunately, if I want it to be something that the whole family can eat, it also can't have needs to flaxseed and kitniyot free.
I started trying to figure out what I could use to fluff matzah balls up and keep them together. Eggs are a very important part of the original recipe. By adding baking soda and potato starch I was able to come pretty close t the original. They are more delicate, but they taste the same.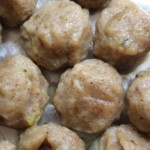 Prep Time: 20 minutes
Cook Time: 15 minutes
Print
Vegan Matzo Balls (aka Kneidlach)
It's important to me that my kids don't feel like they are missing out being egg free. With these matzo balls, they don't.
Ingredients
Instructions
Mix all ingredients together
Refrigerate for 1/2 hour
Roll into balls and place in boiling soup
Simmer in soup until they grow (about 20 minutes)
Take out of soup with a slotted spoon and let harden for 30 minutes to 1 hour(or longer) in the fridge
Put the balls back in the soup about 1/2 hour before it's ready to be served to heat up
Serve
Allergens
Allergens
5

stars - based on

1

review(s)
If you don't take the balls out of the soup, they will fall apart. Taking them out gives them a chance to get firm. Once they have firmed up, you can put them back in the soup without any fears.
I actually figured out the part about taking them out to let them harden by accident. In one of my attempts, I decided to get rid of a batch because they were falling apart. They tasted good, so I just put them on the side to try to figure out what to do with them. When I had a chance to get back to them, they were the perfect consistency. I love a story with a happy ending.
While testing out this recipe, on one of the rounds I used olive oil. I personally feel that olive oil has too strong a flavor. I use canola oil, but any light oil should do.
I wish everyone a very happy and healthy Passover.
Add to Favourites