This soup is called orange soup, but it has no oranges in it. The first time that I was offered this soup I didn't know what to expect. It's called orange because of the color, which it gets from the orange vegetables in it. It works a lot better in Hebrew. Katom is the color orange and Tapuz is the fruit. I hope that you enjoy this Marak Katom!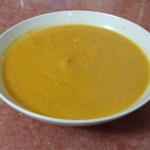 Prep Time: 20 minutes
Cook Time: 60 minutes
Print
Orange Soup
I chop all the vegetables while I make this soup. I start with the onions and let them cook while I peel and chop the carrots. By the time I get to the pumpkin, all the other vegetables are nicely cooked and it takes only a couple of minutes to finish it up. The vegetables let off liquid, so you shouldn't need to add more oil.
Ingredients
Instructions
Heat oil
Add vegetable, one at a time until all are cooked
Add water to almost cover
Add bouillon and boil until vegetables are soft
Let cool and process with hand blender
Reheat and serve warm
My hand blender is my favorite kitchen appliance. I love using it for all kinds of soups. It makes them come out nice and creamy.
Add to Favourites