Now that I know how to make my own vegan mayonnaise, I'm having fun making food that I haven't eaten in a long time. Potato salad is one of those foods. It's funny what emotions come to play when you think about food. When I think about potato salad I think of picnics and pot luck meals with friends. Potato salad is just a happy food that brings people together.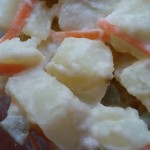 Prep Time: 15 minutes
Cook Time: 10 minutes
Print
Potato Salad
If you don't have mayo, you can use oil (I like olive oil for this). It's pretty good, but it's not mayo.
Ingredients
Instructions
Boil potatoes in water until they are soft, but not mushy, about 10 minutes
Drain and let cool
Mix in a bowl with the rest of the ingredients
Serve warm or cold
Add to Favourites