Soups are one of those great foods that fill you up, keep you warm, and are easy to make. Especially this nice thick soup. I like to make this during the week of Chol Hamoed Pesach.
Having a hand blender is crucial to my happiness on Pesach. I like to blend this soup halfway so that it's a bit chunky. If you don't have a hand blender, try a potato masher, or putting half of the soup in a regular food processor. Those work too, but aren't quite as easy.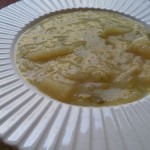 Prep Time: 20 minutes
Cook Time: 60 minutes
Print
Potato Leek Soup
Classic potato leek soup uses butter for frying the leeks. Frying the leeks in olive oil gives a lovely, rich flavor. I actually like it better.
Ingredients
Instructions
Heat oil
Add leeks and cook until translucent
Add potatoes and cook for a couple of more minutes, stirring often
Add the rest of the ingredients and bring to a boil
Lower flame and cook until potatoes are soft
Remove from flame and process roughly with a hand blender
Serve warm
Add to Favourites