Update! Tivol ground meat substitute is now egg free. Most Tivol products still contain eggs, so you need to check the labels before using any of their products.
Passover is around the corner, so I've been trying to use up all the chametz in the house. That's the type of food that Jews are not allowed to own over the holidays. It's basically most of the stuff made out of flour. Looking through my freezer, I noticed that I had French pastry dough. That's a no-no. When I usually make spinach pie, I use an oil crust, like the one that I used for my apple pie, but I hate wasting, so I used the French pastry dough instead.
This is a recipe that has been in my family forever. My mom used to make this. It was one of the only ways that she could get us to eat spinach (my brother and I didn't know what was good!) She used ground beef for her recipe, but she won't be doing that again. My mom has turned vegan too. We're a whole family of crazies.
There are some great meat substitutes out there. Teva deli has recently come out with ground seitan that is really amazing. When we lived in the States, we always used Morningstar Farms products when we wanted to go meatless. There is a product in Israel call Tivol. Although it's not meat, it's also not vegan. They use eggs in all their products, and I mean all their products. Trust me, I've looked.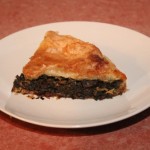 Prep Time: 20 minutes
Cook Time: 45 minutes
Print
Spinach Pie
I use a basic crust for practically all my recipes. You can find the recipe for it on my apple pie recipe.
Ingredients
Instructions
Prepare pie crust and cook bottom layer at 350 degrees for 15 minutes and set aside.
Heat oil and add onions, mushrooms and garlic and cook until onions are translucent.
Add spinach, carrots, seitan and salt and cook on low flame for a couple of minutes so that the flavors can meld together.
Fill pie crust with spinach mixture and cover with top crust.
Bake at 350 degrees for about 1/2 hour, or until the crust starts to brown.
Allergens
Allergens
When I made this with the French pastry dough, I did not bake the bottom crust before I put it together. I just put it all together and baked it. Although it's not authentic that way, it's much faster. When I brought it to the table for dinner my daughter said "cool, we're eating a giant barekas". She's 14, so it's not as cute as if a 4-year-old would have said it, but I thought it was cute.
There is something really special about this recipe. My aunt, who would never eat onions, likes it, and my husband who doesn't like spinach likes it too. Not only did he eat the first slice, but he asked for seconds. I call that a huge success. I'll be making this more often.
Add to Favourites