I was planning to make a lot of latkes over Chanuka, but I never got around to it. I did make one batch, so I've done my duty. Don't worry, I made plenty of other fried food for my kids including sufganiyot, tofu scramble and french toast.
I bought a lot of potatoes in expectation of all the latkes I was going to make. Since that didn't happen, I had to figure out something to do with the potatoes. I baked a few, made some salad and hashbrowns. And I made knishes.
Honestly, I haven't had knishes in years. When we lived in New York, we would buy them at the deli. In Dallas, they were harder to find, but you could get some frozen, sometimes, if you looked really hard.
I haven't seen any knishes in Israel. There must be.  I know that there is a bakery called Coney Island Bakery. I assume that they must have, but I haven't looked because of the whole vegan thing.
Years ago, when the kids were little and I did a lot more cooking than I do now, I would would make them once in a blue moon. I've wanted to do it again, and having too many potatoes seemed like a good opportunity.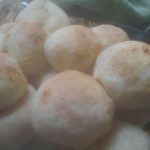 Prep Time: 40 minutes
Cook Time: 45 minutes
Print
Potato Knishes
It may seem like I've overdone it on the oil to fry the onions, but they are needed for the potato mixture, so don't skimp out.
Ingredients
Instructions
Filling:
Peel and boil the potatoes
Chop up the onions and fry in olive oil
Mostly drain the potatoes, leaving about 1/2 inch of water
Pour in the onion and add the salt
Mash together
Set aside and let cool
Dough:
Mix all the ingredients together
Knead dough, adding extra flour as needed
Let sit until potatoes have cooled
Putting it together:
Roll out half of the dough at a time to about 1/8th inch on a well floured surface
Cut dough into 6 squares and put about a 1/2 cup of potato mixture in the center
Wrap the mixture in the dough, putting the seams at the bottom
Place on an oiled aluminum lined tray
Bake at 350 degrees for 45 minutes, until they brown a bit on top
Serve hot, with mustard
Allergens
Allergens
How useful was this post?
Click on a star to rate it!
Average rating / 5. Vote count:
Add to Favourites