Update: I've been making a lot of French toast lately. Sometimes I just don't have bananas in the house. I've found that you can dunk challah in soy milk and fry it up. It works well too.
I know what you're thinking, how on earth can you have french toast without eggs? I didn't think it was possible either. I do have to say that I was very motivated to find a way.
I make challah every week for Shabbat. I don't really have a choice in the matter – challah by definition is a sweet egg bread. When I have guests, I go a bit over the top and cook too much. I always have challah left over. So what am I going to do with leftover challah? You got it, french toast.
Like with my brownie recipe, I use bananas as a substitute for eggs. Mushed bananas are really sticky and make a great substitute. The sweetness is actually a plus. It means that you need less sugar or maple syrup than you would otherwise.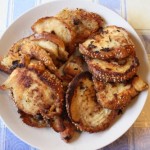 Vegan French Toast
I love making things that remind me of my childhood. My mom made a lot of french toast when I was  growing up and we loved it!
Ingredients
Instructions
Blend banana, soy milk, vanilla and cinnamon in a blender. (I use a hand blender.)
Dip sliced pieces of bread in banana mixture.
Scrape off excess banana mixture from bread.
Fry in margarine.
Eat.
Allergens
You may want to double or triple this recipe, depending on how many people you are feeding and how much challah you have left over. This one worked well for a two person meal.
Bon Appetit!
Add to Favourites